Does anyone ever find themselves with something to say and no time to say it?
Paperless post can fix just that. With the chicest array of greeting cards, invitations and flyers they have you covered for every occasion and the best thing of all? They are customisable meaning you can place your own mark on them.
Whether you are using the website or on the go and using the app, everything you need is at your fingertips. There are an endless array of designs that you can customise in your very own way. My favourite feature about Paperless post is that the final product is completely up to you ensuring you can make it every inch of gorgeous and this is done well within a price budget! Gone are the days where your holiday cards are still on your dresser in January!
Your creations land straight to the inbox of your chosen recipients and even provide you with notification when opened and the chance to RSVP or message if appropriate. I recently created these cute Kate Spade cards to provide my favourites with a little appreciation. Although these are technically categorised as invitations the design was just too hard to resist. Kate Spade is just one designer who you will discover across this platform, the adorable ideas from these creators will have each and everyone of you stuck for choice!
Send your Paperless Post now by heading to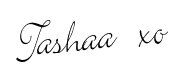 *This is a sponsored post